GMO corn vs organic corn?
No comparison!
Why grow this: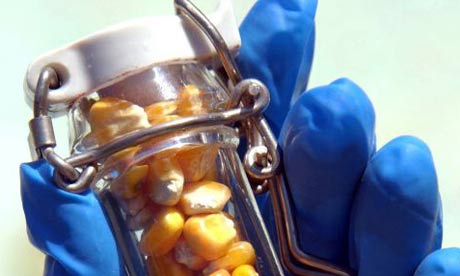 When you could grow this?
GMO Corn vs Organic Corn
So – what reasons could I give for growing your own organic corn or heirloom corn and skipping the GMO corn from the store?
How about the dangerous levels of glysophate and fluoride in factory farmed gen-mod corn?
http://permaculturenews.org/2013/04/22/stunning-difference-of-gm-from-non-gm-corn/
Nice, eh? Fluoride-induced brain damage.
Science! Science! Science!
I just finished reading Carol Deppe's The Resilient Gardener
and she's a total expert on traditional corn varieties. We'd better start saving and growing them in home plots before they're completely destroyed by GMO monstrosities.
It's sad to avoid grits, corn flakes, tortilla chips, etc… but that's really our only option unless we grow our own – or can prove the corn in our favorite products isn't GMO.
Sick.
UPDATE 2015:
Thus far, I've grown Hickory King, Tex Cuban, Floriani and Heirloom blue corn in my test plots. The Hickory King and the Tex Cuban both do quite well in Florida. If you're not addicted to RoundUp, I recommend growing these classic heirloom dent corn varieties organically and then making your own grits, corn meal, etc. and staying away from Frankencorn.
The dent corns take quite a long season to produce, but they also produce a lot of biomass for your compost pile or silage for your animals.
Avoiding cross contamination isn't easy, however; corn is wind-pollinated. If you have a neighbor growing another variety – likely a GMO corn variety – the pollen can get into your garden as well. Keep your eyes open.
When you grow your own corn, you grow something beautiful and save the genetics of past Americans working long ago on maize and bringing it forward into the staple crop it is today. Somewhere we lost the plot and jumped into the lab and left the past behind – and that's a big loss for everyone.